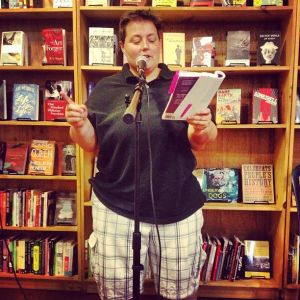 Kelli LOVES college gigs. Loves talking to students. Loves doing workshops.And her comic health presentations bring out everyone, queer and straight.
Kelli's forte is bringing humor to hard subjects and her background as a registered nurse makes her a perfect choice for talking about LGBT health on campus in a way that all students can relate to. Check out her health presentation and workshops, workshops for health science students, writing/creative workshops and one person shows.
Because Kelli brings a lot of diverse skills and identities to the table, you can work together with other campus orgs to bring Kelli to your school. Some examples:
Combine a classroom lecture on "Free Speech + Comedy – Rape" (about how to subvert rape culture in comedy rather than perpetuating it) for TAKE BACK THE NIGHT and then have Kelli talk to the nursing students about the ABCs of Surviving Nursing School.
Have Kelli run a queer storytelling workshop during the day and then host a storytelling event at night…a great way to build credibility and interest for a new LGBT group on campus (partner with women's studies or the English department)
During LGBT HEALTH WEEK, bring in Kelli for a keynote, then offer a workshop for the health sciences students and social work students about LAUGHTER AT THE END OF LIFE.
Combining the resources your club has with the resources of other clubs and orgs is a great way to get a NATIONALLY KNOWN SPEAKER no matter how small your budget is!
Have an idea? Contact Kelli right now. Text 215.964.1963 or kellidunham@gmail.com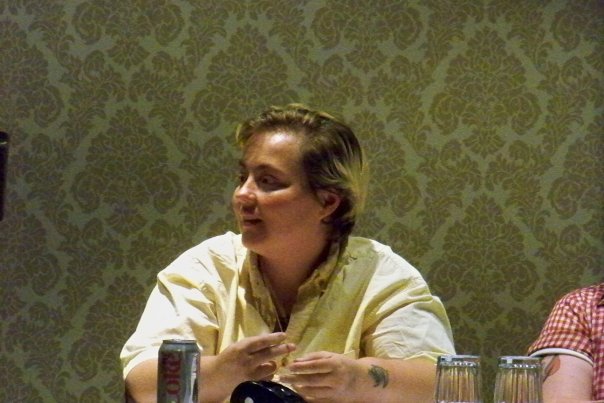 PS Because most of the hate crimes against transfolks (and LGBT folks in general) are committed against transwomen of color, Kelli does not normally accept bookings to be a speaker at Trans Day of Remembrance events. Kelli can provide some suggestions for speakers, or you can also contact J Mase III's talent agency which books exclusively queer and trans folks of color.
KELLI HAS PERFORMED AT….
Baltimore County Community College (Baltimore, MD)
City College of New York (NYC)
Columbia University (NYC)
Colorado State University (Fort Collins, CO)
Drexel University (Philly, PA)
Drexel University School of Medicine (Philly PA)
Hunter College (NYC)
Lancaster County Community College (Lancaster County PA)
New York University (NYC)
Philadelphia College of Osteopathic Medicine (Overbrook PA)
Penn State University (College Station, PA)
St. Francis College (Brooklyn, NY)
St. Luke's College (Sioux City, IA)
Smith College (Northampton, MA)
SUNY Stoneybrook (Long Island, NY)
Swarthmore College (Swarthmore, PA)
Temple University (Philly, PA)
University of Delaware (Wilmington, DE)
Widener University (Chester PA)
Won Institute of Graduate Studies (Glenside, PA)
Q. Is Kelli funny?
A. Yes, apparently many people seem to think so. Her debut comedy CD, "I am NOT a 12 Year Old Boy" has been in regular rotation on Sirius Satellite Radio's Raw Dog station since it came out a few years ago. She gets many repeat gigs and excellent reviews. She even gets fan mail that starts "you're very funny" and doesn't lead to stalking.
Q. Is Kelli responsible? Punctual? Clean? Respectful?

A. Yes, Kelli really is a Boi Scout. Or a Grrl Scout. Or a Womyn Scout, if you'd prefer. She shows up on time, makes people laugh, handles difficult situations with tact and grace and will not scare the straight people.
Q. Has Kelli been around long? Where has she performed?
A. Kelli has been performing for a half dozen years. During her recent "I am NOT a 12 Year Old Boy" tour (more than 100 shows in 11 months) Kelli performed, well, just about everywhere. From atop a ladder at the LGBT business expo. For the attendees of the Beltane Sacred Sexuality Conference (on the front row? A dude wearing a beret and a cape and nothing else) and at tons of colleges, including Baltimore County Community College, Drexel University (Philly PA), Penn State University (College Station, PA) and St. Luke's College (Sioux City, IA).
Q. Is Kelli really an ex nun?
A. Yes, but not to worry. She has stopped doing the Stations of the Cross as a sound check.
Q. Is it true that Kelli used to live in Port-au-Prince Haiti, that she speaks Kreyol, still skateboards even though she is—technically at least—a grown-up, can blow air out through her eyes and once rescued a three legged diabetic cat who was stuck in a haymow?
A. Yes, yes, yes, yes, and the cat was not diabetic.
Q. Will Kelli say bad words when we ask her not to?
A. No. Kelli is a grown up. She sometimes says bad words, especially if she drops something heavy on her foot, or a rainbow archway collapses on her head, but none of her jokes depend on them
Q. Will Kelli scare our students/parents/ the dean of students?
A. A reporter once referred to Kelli as the "koala bear comic" and her friends and exes have never let her forget this. Unless your students, faculty or staff have a koala bear phobia, they shouldn't be too frightened. In a recent email, accidentally forwarded to Kelli's account by a corporate client, Kelli was described as "…[looking like] a stereotypical lesbian but nevertheless approachable [with a] warm, caring, mischievous delivery." And the client never even saw Kelli in red plaid flannel.
Q. Is Kelli expensive?
A.Well, she's not free. She makes her living doing comedy and as much as she'd be tickled purple to subsist on funnel cakes, lube and frequent flyer miles, it doesn't work well long term. At the same time, she is willing to work with colleges to make sure her services stay affordable. If you're worried about price, talk with Kelli. She has all sorts of ideas for making gigs a win-win for the organization and herself.