Kelli has emceed everything from $500 plate fundraisers to huge pride events to small pride events to women's festivals, to theater festivals to livestock auctions and everything in between.
She will show up on time.
She will not use words you ask her not to use.
She will remember to thank the sponsors.
She'll be able to handle it if there's a throw down between the drag queens and the politicians.
She will at all times act like a grown up. Also, she will be funny.
Recently Kelli emceed a 12 hour marathon that was Atlanta Pride. By the end of the day, the organizers began referring to her as the "Pride Day Miracle." Enough said.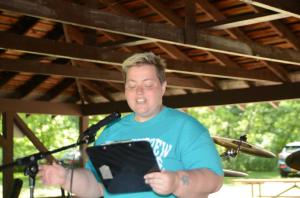 Sometimes it's hard to make a case for a PAID emcee, when hey isn't there surely a local business owner who will do it for free? Yes, perhaps, but remember an experienced emcee:
1.Contributes to the overall tone of the day. If an act or two is not stellar, or behaves in a way that you might prefer they not, a good emcee can make nice with the crowd and smooth things over immediately, which means less angry emails to answer later.
2.Is able to use the time when musicians are setting up, technical problems are being resolved etc to good use, by working the crowd, doing relevant (ie specific to the event) comedy material, remembering to talk about how awesome the sponsors are, etc.
3.Can put nervous speakers and acts more at ease in both personal interactions and from the stage.
4.Makes sure that the whole event has a uniformly high energy feel, not just the few minutes when the most revered headliner is on.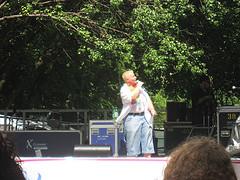 If you're convincing a committee (and hey, we know in our community there's always a committee), hit up the contacts page for a way to get a pdf flyer with these points that you can print out and present.
PS Bless her gizzard, Kelli LOVES emceeing events, even slightly chaotic, involved outdoor events that other comics avoid.