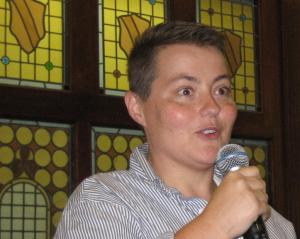 Um, an LGBT comic in church?
Yes!
Kelli has actually had great success in shows produced in conjunction with faith communities, including Unitarian churches, MCCs, Episcopal churches and even a Buddhist divinity school.
Frequently Asked Questions About Booking Kelli Dunham for Faith Communities
Q. A comedian? At church? Is this really a good idea?
A.  Yes indeedy, it is, if Kelli is the comedian. Kelli has performed for Metropolitan Community Churches (in shows held in the actual church building as well as shows done in conjunction with a local venue), pride events in rural areas,  a Buddhist divinity school,,  and at very uptight corporate venues. She once performed for Citibank the year after there had been a massive employee protest against celebrating pride month. She even made the people sitting with crossed arms and pained faces smile a little bit.
In addition, Kelli's personal history as a Missionary of Charity (remember Mother Theresa, yeah, that group of nuns) and growing up as an evangelical Christian (five years of Young Life camp, two summers of Teen Missions, more car washes and potlucks than she can count) has definitely shaped her comedy material. She often talks about her personal spiritual journey as part of her one hour show.
Q. Is Kelli responsible? Punctual? Clean? Respectful?
A. Yes, Kelli really is a Boi Scout. Or a Grrl Scout. Or a Womyn Scout, if you'd prefer. She shows up on time, makes people laugh, handles difficult situations with tact and grace and will not have make unwelcome advances to anyone on your planning committee.
Q. Is Kelli really an ex nun?
A. Yes, but not to worry. She has stopped doing the Stations of the Cross as a sound check.
Q. Is it true that Kelli used to live in Port-au-Prince Haiti, that she speaks Kreyol, still skateboards even though she is well into her fourth decade of life, can blow air out through her eyes and once rescued a three legged diabetic cat who was stuck in a haymow?
A. Yes, yes, yes, yes, and the cat was not diabetic.
Q. Is it also true that Kelli has never been drunk?
A. This is indeed accurate. Kelli gets sleepy after the first 1.5 ounces of alcohol and has never quite had the fortitude to proceed past the second drink. While this means she doesn't have any stories which begin "…so after I passed out in the green room… " This might prove disappointing to some. On the other hand, she isn't going to be throwing up on your assistant pastor either.
Q. Will Kelli say bad words when we ask her not to?
A. No. Kelli is a grown up. Once in a great while she might say a bad word, especially if she drops something heavy on her foot, or a rainbow archway collapses on her head, but none of her jokes depend on them.
Q. Will Kelli scare our parishioners/potential parishioners/ the people we rent the church building from?
A. A reporter once referred to Kelli as the "koala bear comic" and her friends and exes have never let her forget this. Unless your parishioners/potential parishioners/ the people you rent the church building from have a koala bear phobia, they shouldn't be frightened. In a recent email, accidentally forwarded to Kelli's account by a corporate client, Kelli was described as "…[looking like] a stereotypical lesbian but nevertheless approachable [with a] warm, caring, mischievous delivery." And the client never even saw Kelli in red plaid flannel.
Q. Is Kelli expensive?
A.Well, she's not free. She makes her living doing comedy and as much as she'd be tickled purple to subsist on funnel cakes and frequent flyer miles, it doesn't work well long term. At the same time, she is willing to work with non profits to make sure her services stay affordable. Some churches have even used Kelli's gig as a very effective fundraiser for their organization! If you're worried about price, talk with Kelli. She has all sorts of ideas for making gigs a win-win for the organization and herself.
A testimonial letter from Karla Fleshmann at Glenn Mills MCC