What are colleges and nursing schools saying about Kelli?
Kelli Dunham TESTIMONIAL LETTER Rutgers
And..all of Kelli's presentations for healthcare providers are CEU ready! 
Don't see precisely what you need here? Contact us for a program tailored to your organization, conference or school.
HUMOR RELATED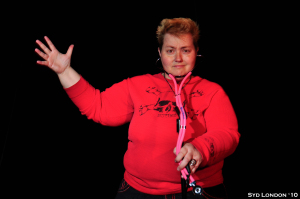 GO AHEAD, YUK IT UP: HONING HUMOR IN THE HEALTHCARE PROFESSIONS (PRESENTATION)
During this presentation, bachelor's prepared nurse and comic Kelli Dunham, who has more than a decade experience in community health, interweaves concrete research-based tips on the uses of humor in health care practice with mutual story-sharing. Participants will learn ten functions of humor in their specific practice, three misconceptions about humor, and two humor pitfalls to avoid and will also have a very good time. [note: this presentation can be tailored to the experience of healthcare students as well]
LAUGHTER AT THE END OF LIFE (PRESENTATION)
In this highly unusual presentation, Kelli details how patients, family members, and health care providers use humor in dealing with issues of serious illness, death, dying and bereavement. This presentation draws on Kelli's more than ten years as a community health nurse, her experiences during the early years of the AIDS crisis as well, her lived experience as the primary caregiver of her partner who died of ovarian cancer in 2007 and her work in post earthquake Haiti. This presentation not only includes a discussion of the functions of the use of humor (and related anecdotes) but also assists providers, family, and caregivers in deciding an appropriate therapeutic (read: human) response to humor in these type of situations. [Please note that a variation of this presentation entitled HEY THAT'S NOT FUNNY, OR IS IT? USING HUMOR IN HEALTHCARE is also available. This presentation focuses more on general use of humor in healthcare situations and less specifically on death and serious illness]
HOW ARE YOU STILL STANDING? MITIGATING TRAUMA THROUGH HUMOR: ONE NURSE/COMIC'S JOURNEY
In 2007, Kelli Dunham's partner Heather MacAllister died of ovarian cancer after a protracted struggle. Two years later, Kelli fell in love with Cheryl Burke, a 38 year old non-smoker, non-drinker vegetarian with no family history of cancer.  Two years after they began dating, Cheryl developed Hodgkin's lymphoma and despite the excellent prognosis, died after a three month hospitalization as a result of pulmonary fibrosis secondary to bleomyocin toxicity.  This presentation is Kelli's response to the frequently asked question "how are you still standing" and deals with themes of mitigating trauma through laughter, enduring care even during intense caregiving and chosen hope. [Please note, this presentation can targeted either for health care providers/students or for lay people, as appropriate]
THAT's NOT FUNNY OR IS IT? USING HUMOR FOR REFUELING IN THE HOME VISITING OR PRIMARY CARE ENVIRONMENT
Kelli Dunham spent her first years out of nursing school working at the 11th Street Family Health Center when it was in a single borrowed room in a public housing community center in North Philadelphia. She then spent nearly a dozen years as a home visiting nurse with the Philadelphia Nurse Family Partnership, working with first time new moms (mostly teenagers) in their homes. She is the only nurse nationwide who completed all her visits on public transportation and is still remembered on the Broad Street Line as that "lady who always carries the baby scale" Kelli now divides her time between traveling as a stand-up comic and working in the New York City public school system with teenagers affected by multiple traumas.
In this hilarious and informative 90 minute interactive presentation Kelli interweaves concrete research-based tips on the uses of humor in community health practice with mutual story-sharing, not only illustrating how community based health personnel can use humor to refuel emotionally, but also actually helping them refuel.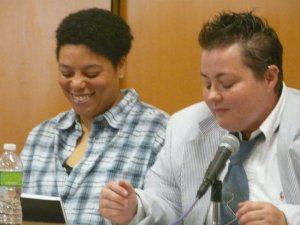 LGBT RELATED
What's Trauma Got to Do With It: Engaging Care-Averse LGBT Students/Patients
To effectively provide care for LGBT students or patients, it's essential to understand the external and internal barriers that make it more difficult for LGBT students/patients to initiate health care encounters, follow up and be proactive in seeking care. In this interactive presentation, participants will come to understand how individual and group historical health experiences impact LGBT students' health behaviors and how providers and students/patients can work together to increase functional accessibility of student health/health care systems to LGBT students/patients.
LGBT HEALTH 201: THE BASICS AND BEYOND FOR LGBT HEALTH CARE PROVIDERS AND THEIR ALLIES (PRESENTATION)L
Designed for future health care providers, especially those who will be working in primary care, this presentation covers the basics of issues related to health in the lesbian, gay, bisexual and transgendered communities. Includes tips and tactics for making the health care environment a welcoming one, as well as training staff.
Have you ever..
-Overheard your boss make a homophobic comment about a patient and not known how to respond?
-Had to explain to an otherwise reasonable co-worker that simply identifying as a gay male doesn't put a client at risk for HIV?
-Not held hands with your partner in public because you were afraid you could run into a patient who might give you a hard time?
-Had to explain the concept of a preferred gender pronoun (either yours or someone else's) many times…to the same person…on the same day?
If so (or you can anticipate such a situation) this workshop is for you.
LGBT HEALTH 201 is designed for LGBT-identified health care providers and students in the health sciences, as well as their straight allies. In this interactive presentation, public health nurse/comedian Kelli Dunham not only presents the facts about the health challenges—and strengths of the LGBT community, but also leads attendees through improvisational exercises designed to help participants build self advocacy skills and skills to advocate for LGBT patients and co-workers.
OTHER
THE ABCS OF SURVIVING NURSING SCHOOL (PRESENTATION)
Kelli is the author of How to Survive and Maybe Even Love Nursing School, first published in 2001 and now in its third edition. How to Survive is frequently adopted for introduction to nursing courses and is a American Journal of Nursing Book of the Year. In this presentation, Kelli presents the stories and advice of the more than 500 nursing students and nurse educators she interviewed for the book. Genuinely helpful and genuinely funny.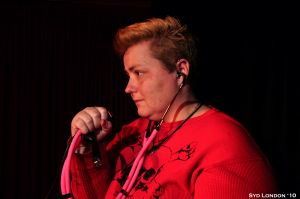 STORYTELLING FOR HEALTHCARE PROVIDERS
In this workshop, providers learn about the power of personal storyteller, discuss how to harness this power in their work with clients as well as their co-workers, and will share stories in a mutually supportive atmosphere.
Some press about Kelli's presentations to health care providers/students:
"Dynamic!" -Advance for Nurses