Here's just a sampling of press, awards and biggole "thank you" letters Kelli has gotten over the years…
"More than ever, Kelli [current work showcases] her ability to mix nonchalant shock with perfectly timed candor. Part storytelling, part therapy, part cultural commentary, and always hilarious, Kelli manages to be both a true personality and someone you're forever rooting for. And if you ask nicely she might even make you cookies."
— Autumn Whitefield-Madrano , The Beheld: Beauty and What It Means
A lovely interview/profile from the summer of 2015, published on the Scandinavian website Gaysir
Kelli was recently featured on AfterEllen.com
Kelli was the subject of Laura Hadden's award-winning short film Sister Mercy which premiered at Frameline.
TESTIMONIAL LETTERS
Thank you letter from Michael Strong at Widener
Letter from KarlaFleshman at MCC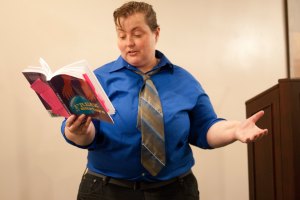 PRESS
A great feature in Portland's Just Out
Interview on The Beheld: Beauty Blog. Yup.
After F*** Your Health at Colorado State University: Rocky Mountain Collegian
Kelli on The List of Exceptional DE Valley LGBT Under 30
"Changing the world, one yuk at a time" –Montreal Mirror
Kelli was included in the 2009 Hottest Butches List.
"Kelli Dunham…cracks us up" -Curve Magazine
Time Out New York's full page article on Kelli's unusual relationship with her CD. Awesome photo by Sophia Wallace.
Go Magazine explains why it include Kelli on their annual list of "100 Women We Love"
Tellofilm's Interview with Kelli.Pretty in-depth conversation about the bathroom habits of cows, as well.
Kelli as a guest on Firetalk Radio.
"…Brazenly talented… Her reading about the death of her partner which while surprisingly comical, remained remarkably poignant without sinking into schmaltz. That's a tough balancing act that she executed brilliantly." –Review of the WYSIWYG Blogger Show
"Kelli Dunham…cracks us up" -Curve Magazine
Peruse the reader generated interview questions at Eden Fantasy. It was really, um, interesting what folks wanted to know!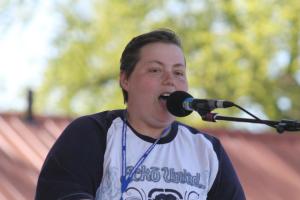 "The funniest emcee this side of the Susquehanna" -Baltimore Gay Life
From Convent to Comedy, interview on CherryGrrl
"More rock concert than comedy show" -Daniel McQuade, Philadelphia Weekly
"[Kelli's humor is] a blend of biting social commentary and loving wit…" -Colleen O Connell, Au Courant