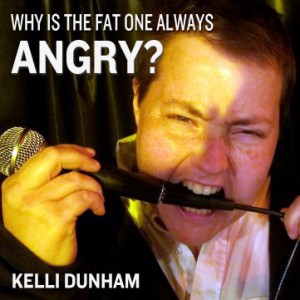 Kelli Dunham is a genderqueer Brooklyn based ex-nun nerdcomic; a Wisconsin farmboi transplant who juxtaposes midwestern friendliness with New York attitude in a way that has been described as both "horrifying" and "hilarious."
In Why Is The Fat One Always Angry (her sixth one person show and her third comedy CD) Kelli continues on the quest to make comedy where slam poetry dares not tread.
Track List
Fun and Games at Widow Camp
Adventures in Dolphin Punching
My World Has Crumbled, Go for Pizza
I'm Here, I'm Queer, the Tubal Ligation Didn't Work
Holy Mother of Pride
Post Apocalypse Twelve Step Meeting
Body Fluid on the B Train
Yes, it really is pay what you can! All the proceeds from this are going to be Helpypants Mini-Books Initiative, which is a series of booklets I'm working on that will include the nitty gritty what you need to know about grief, going to the emergency room safely as queer/gender nonconforming person, how to survive (and maybe thrive?) through a pelvic exam, etc. If you don't have any cash but want to pay it forward, maybe write a letter to Foxy, a trans woman in prison in MA (or another LGBT person in prison, check the link for details) or come out to our F**the Holidays, Anti Celebration Show with me and Red Durkin!