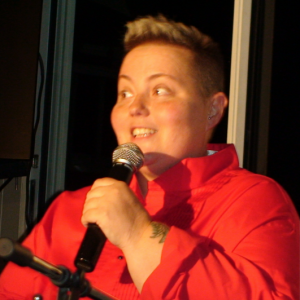 Kelli Dunham is the genderqueer nurse-comic-author-ex-nun hybrid so common in modern Brooklyn.
Kelli was one of Velvet Park Magazine's 25 Significant Women of 2011, was named to the 2012 Campus Pride Hotlist and has appeared on Showtime and the Discovery Channel and nationwide at colleges, prides, fundraisers and even the occasional livestock auction. She is also an RN and the author of five books of humorous non-fiction, including two children's books being used by Sonlight conservative home schooling association in their science curriculum. Kelli's fifth book, Freak of Nurture, a collection of humorous essays published by Topside Press caused award-winning author Barbara Carellas to give Kelli the moniker "the David Sedaris of the genderqueer dyke world." Kelli's is the LGBT health columnist for Curve Magazine online and a frequent contributor to OXJane.com. You may have also seen Kelli's unique humorously concerned voice in articles on Refinery29, The New Republic, Thought Catalog and Autostraddle and most recently, the NPR Health Blog.
Kelli is considered an expert on family caregiving, curates the Family Caregiving site of About.com and presents nationwide to healthcare providers about using humor to prevent burnout and compassion fatigue.
Kelli has released three comedy CDs: "I am NOT a 12 Year Old Boy" "Almost Pretty," "Why Is the Fat One Always Angry" all which are on regular rotation on Sirius/XM Satellite Radio's Rawdog Comedy Station and Pandora's Margaret Cho Station.