If you're on this page, chances are you work for a medium or large sized corporation that either has a mandate or (hopefully) a desire to promote diversity in the workforce. Awesome! Kelli is the right person for you. Don't be scared off by the "stand-up comic" description in front of Kelli's name. She's funny (and that's a plus for dealing with touchy subjects) but knows how to be squeaky corporate clean. If you're worried about pitching Kelli to your risk management/ human resources folks, don't worry, you can call her a "comic storyteller."
Kelli's past corporate/ nonprofit clients have included The American Medical Publishing Association Convention, Citibank, the Philadelphia Board of Education, the Portland Theater Project, the New York Vocational Rehab Association and many more.
Interested? Some suggested presentations: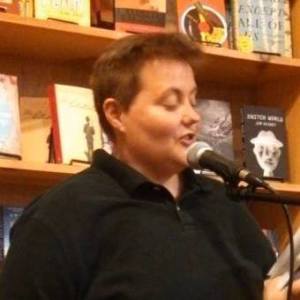 LGBTQ 101 WHAT'S SO FUNNY ABOUT DIVERSITY (INTERACTIVE PRESENTATION)
Using a humorous slide presentation as well as her own striking coming out story, Kelli addresses some of the most common myths about the LGBT communities as well as provides basic information about how to be an ally in the workplace. Kelli has presented "LGBT 101" at Fortune 500 companies with great success. Includes discussion and possible roleplaying. Also adaptable to the academic and small group environment. 60-90 minutes duration.
WHAT'S SO FUNNY ABOUT DIVERSITY, PART II, HOW TO BE AN ALLY TO YOUR LGBT COWORKERS (INTERACTIVE PRESENTATION)
A similar presentation as above, but targeted to participants with a more advanced knowledge base. Also includes humorous slide presentation and interactive portions. 60-90 minutes duration.
STAND UP: FUNNY IS FUNNY (PRESENTATION)
Kelli's one hour stand up show, edited for and targeted to a corporate environment. Because Kelli's one hour show includes her coming out story and focuses on themes many people can relate to (eg making poor life choices to try and fit in) this show works well as both entertainment and as a diversity awareness presentation. 60 minutes in duration.